Steid

Anime

 | 

Manga


Steid
Kana
スティード
Romaji
Sutīdo
Personal Profile
Age
33
Gender
Male
Birth Place
Brune
Status
Deceased
Affiliation
Occupation
Second Commander(Former)
Thenardier Advisor(Former)
Position & Rank
Thenardier's Adviser(Former)
Army
Thenardier Army(Former)

Kingdom
Brune (Former)
Voice Actors
Japanese Seiyū
Kenji Hamada
English Voice
Marcus D. Stimac
Steid was Felix Aaron Thenardier's trusted general and adviser. He is the second in command of Thenardier Army and the person who also giving Thenardier advice on the battlefield.
Character Information
Edit
Appearance
Edit
Stead appeared as a man in his 30's with his signature short hazel hair and a small facial hair around his chin.
Personality
Edit
As Thenardier's trusted general, Stead is a full disciplined, stoic and emotionless warrior who pledged his loyalty to his commander. He is also a silent type person who doesn't talk much unless he was asked, and he only speaks whenever necessary or any critical advises that help his commander.
Chronology
Edit
Role in Brune Civil War
Edit
Saint-Groel Incident and Death
Edit
Main article: Saint-Groel Incident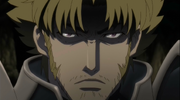 Like Thenardier and his 20 men, Steid used another entry to enter the Saint-Groel and waiting for Tigre and his company arrival at the front gate. Under Thenardier's order, Steid began to pursue for Tigre and Regin. Even with the Silver Meteor Army's soldier's effort, Steid proceed for his targets by killing two of its soldiers. While admired Tigre's skills and his peers chivalry, Steid told the enemy soldiers to step aside since he just need to kill Tigre and Regin, but Rurick refused as he claimed it would be a disgrace as a knight if he follows his enemy's "request".
Even as the cavern was collapsing, Steid proceed to mission to kill Tigre as he easily overpowered Tigre in a short-ranged fight. Just as he was about to kill Tigre, Bertrand sacrificed himself to save Tigre from Steid's slash, which mortally wounded him before Steid was crushed by a falling rock. Even as a lifeless corpse, Steid's face remained emotionless.
Without Steid at his side, Thenardier had to use instincts or personal judgement to continue his battle with Tigre. When Thenardier's army morale was depleting, Thenardier even wished if Steid had survived from the falling caverns. Two years after the civil war, some of his former soldiers allied themselves with House Thenardier's remnant associates and some Nice ministers to assist Melisande's failed coup against Regin.[1]
In an anime exclusive, Stead asked Thenardier his reason to ravage Alsace despite his respect to his commander.
Steid was officially killed by Ganelon as he already preparing the stage to "welcome" Thenardier and Tigre when they are entering Saint-Groel before he burned down Aristhem.
Reference
Edit
↑

Light Novel Volume 12 Chapter 3