| | |
| --- | --- |
| | Incomplete: This article is currently incomplete, including grammar mistakes, empty sections and unfinished sentences. Reader's discretion is advised. Please do not make random edits unless you have a proper information from the source material. |
Episode 13 is the fourteenth episode of Tigre-kun to Vanadi-chu flash anime series. This episode featuring the epilogue of the flash anime series where Tigre bid his farewell to Brune for Zhcted.
The summary is about Tigre will bid farewell to Regin after the banquet itself which Regin wishes to see Tigre off personally. Elen teased Mila as she was tasked for handling paperworks but her instinct makes Mila want to bicker against Elen again  but stopped by Sofy. Titta asked what Sofy do to Mila which Sofy replies with eerie answer that makes Titta scared. As Elen talks about the breastsize, it turns out Regin and Titta who has more small sized breasts than the other three girls (Lim, Sofy, Elen) intimidate Elen, prompted her to apologize to Titta and Regin. When Tigre was continued to be suppressed by Elen about which girl that he like, Rurick came to report and Tigre stumbles upon him much to everyone shock.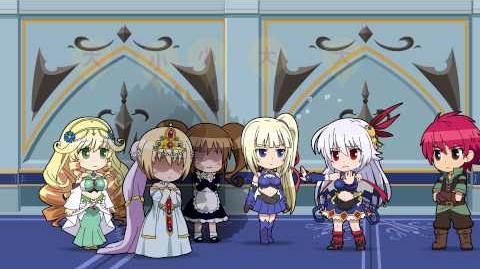 Differences between Light Novel and Anime
Edit
(To be added....)
Miscellaneous Trivia
Edit
(To be added....)
Ad blocker interference detected!
Wikia is a free-to-use site that makes money from advertising. We have a modified experience for viewers using ad blockers

Wikia is not accessible if you've made further modifications. Remove the custom ad blocker rule(s) and the page will load as expected.