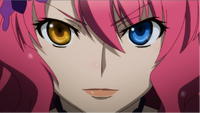 The Rainbow-Eyes (異彩虹瞳 ), or also known as Laziris in Zhcted's language, is the name of Lebus Vanadis Elizaveta Fomina's signature attributes which also a served as Zhcted's one of superstitious subject, specifically Lebus residents who believed to be a good omen.
(To be added...)
Of all people who were looking at Liza's eyes, only Urs (Tigre) didn't believe that the superstitions of the Rainbow-Eyes were true as he believes it looks like a cat which earned Liza's approval of him for being honest about it.
Ad blocker interference detected!
Wikia is a free-to-use site that makes money from advertising. We have a modified experience for viewers using ad blockers

Wikia is not accessible if you've made further modifications. Remove the custom ad blocker rule(s) and the page will load as expected.