Legnica
Kanji

レグニーツァ

Rōmaji

Regnia

Kingdom Profile

Ruler
Notable Figures
Status

Active
Legnica is one of Zhcted's province/territories in the north-western part of Zhcted. It is primary territory of Alexandra Alshavin (Former) and Figneria Alshavin (Current).
Legnica is located within northern Zhcted that nears to the neighboring provinces in between Leitmeritz and Lebus. It is also one of two main territory that houses Zhcted's Navy Units.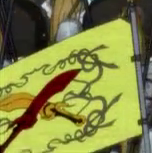 The Legnica flag shows the viralt, Bargren (short twin swords - one red and other gold) on yellow background as a base colour.
Bitter Feud Between Legnica and Lebus
Edit
Tigrevurmud Vorn's Visit
Edit
Death of Sasha
Edit
Figneria the New Vanadis
Edit
Place of Interest
Edit
Legnica Imperial Palace - Legnica's Imperial Palace where Sasha and her ministers reside.
Towns and Cities
Edit
Lippner- One of many Legnica's seaport and Sasha reccomend this town to Tigre in order to meet up with her captain, Matvey. It was used later as Sasha's base of operations to repel Torbalan from Olsina Sea.
Prepus- One of many Legnica's seaport where Tigre was set destination to under Valentina's plot but Sasha later divert Tigre's route to Lippner to meet up with one of her captain, Matvey.
The name of the region is based on Legnica, a town in south-western Poland, in Silesia, in the central part of Lower Silesia, on the plain of Legnica, riverside: Kaczawa (left tributary of the Oder) and the Czarna Woda.
Legnica and Lebus are the only territory that can house Zhcted's Navy Units as other territory are unable to house Navy Units due to them doesn't have connection to the sea.
References
Edit
Ad blocker interference detected!
Wikia is a free-to-use site that makes money from advertising. We have a modified experience for viewers using ad blockers

Wikia is not accessible if you've made further modifications. Remove the custom ad blocker rule(s) and the page will load as expected.